Kary/Vickie,
I just wanted to send both of you a quick thank you for all your patience and assistance over the past 7 months. We never had a back porch, until this week. We started in January and here it is…. check out those spindles! Not to mention the ipe steps. Again THANKS… you made things easy.
Bill
Bill
Punxsutawney, PA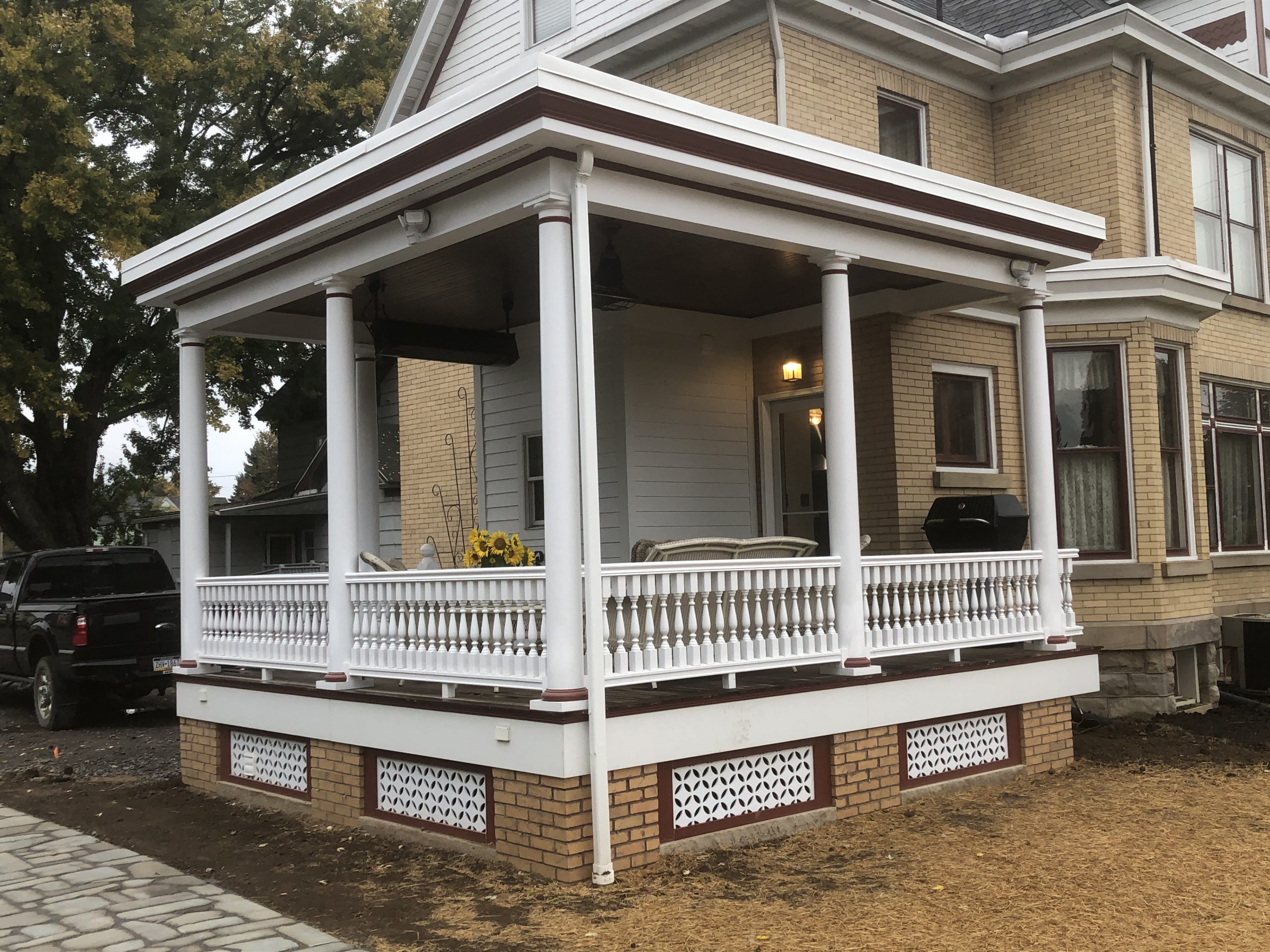 ---
Hi Mr. Spindle
You make a great product. I do want to comment, that I was very impressed on the packaging and shipping of the spindles too. All 130 spindles were without blemish (very good finish, no dents, no drying cracks, no scratches, just perfect). That's is testament to the hard work and passion you have for your product. Keep up the great work!
Ben
Ben
Burlington, WI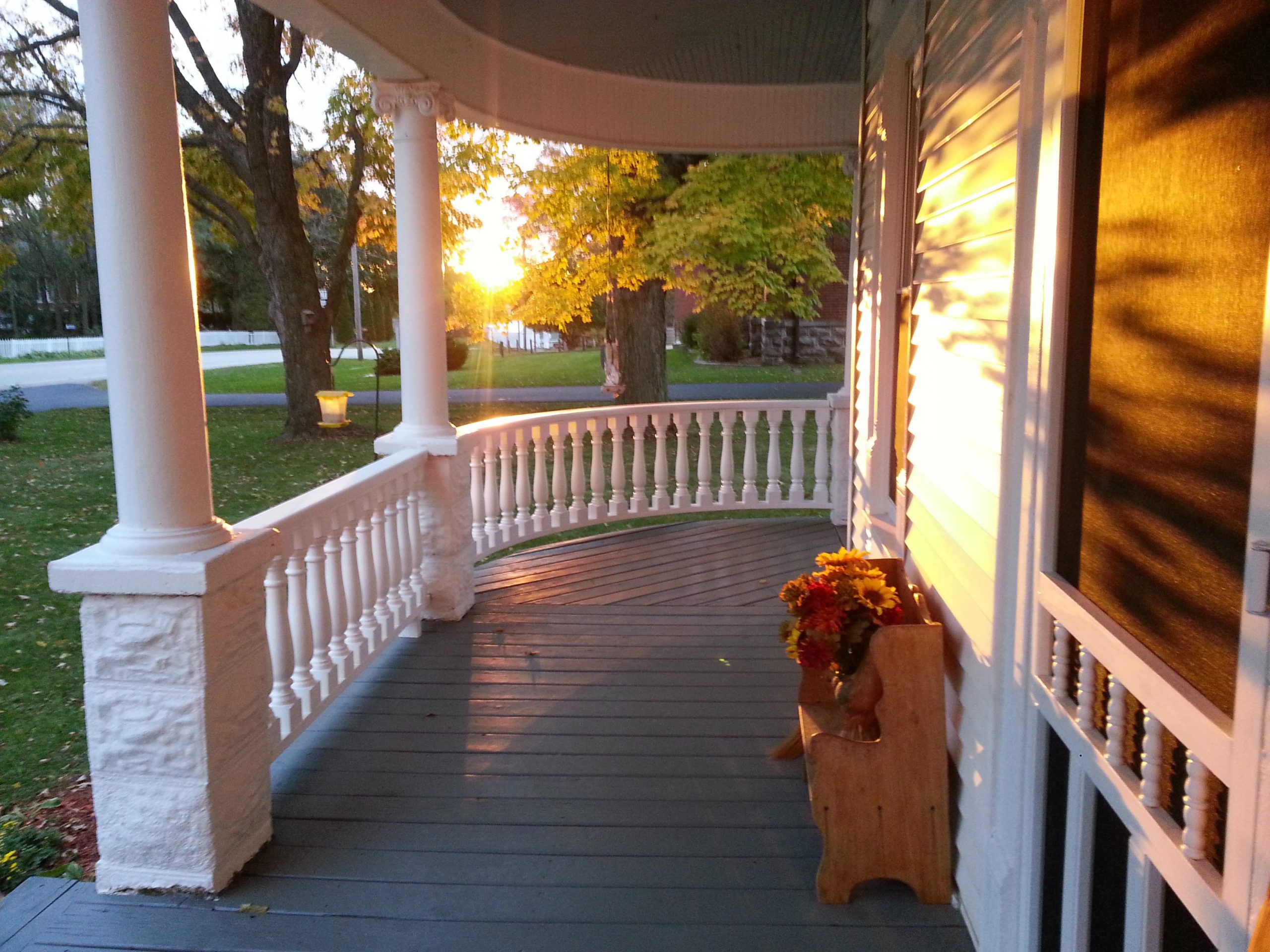 ---
Kary
Remember our order from last summer? We have completed the first half and all went as planned. The quality of materials was outstanding and we are VERY happy the way the deck turned out. Here are a few pictures. We are well on our way painting the remaining millwork and that will be installed next spring. Thanks again for working with us.
Bill and Marilyn
Bill and Marilyn
Hudson, WI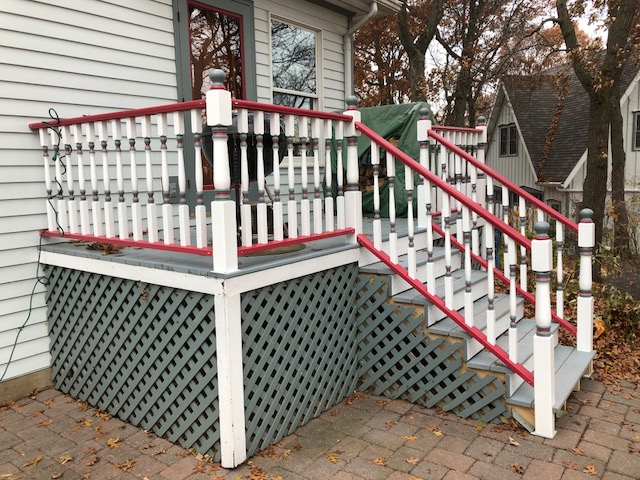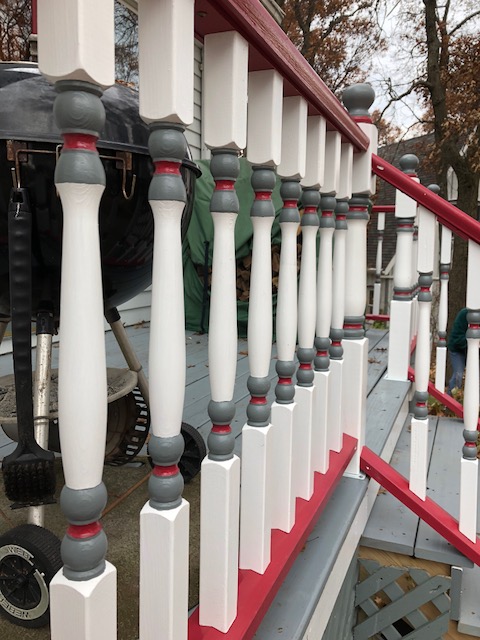 ---
Kary
I did limit myself to four photos this time. Your work has dazzled all (even the town's building inspector). Imagine, having all rails and balusters matching!
The newel post is such an improvement, and it perfectly reflects the existing porch columns (which required a week of intensive bondo application by a talented carpenter to save them). How you make the newel from a photo is quite the trick. We're crossing our fingers that some texting driver does't round the nearby 90-degree turn and take everything out. (But should that happen, we'll know who to call!)
John
John
Great Barrington, MA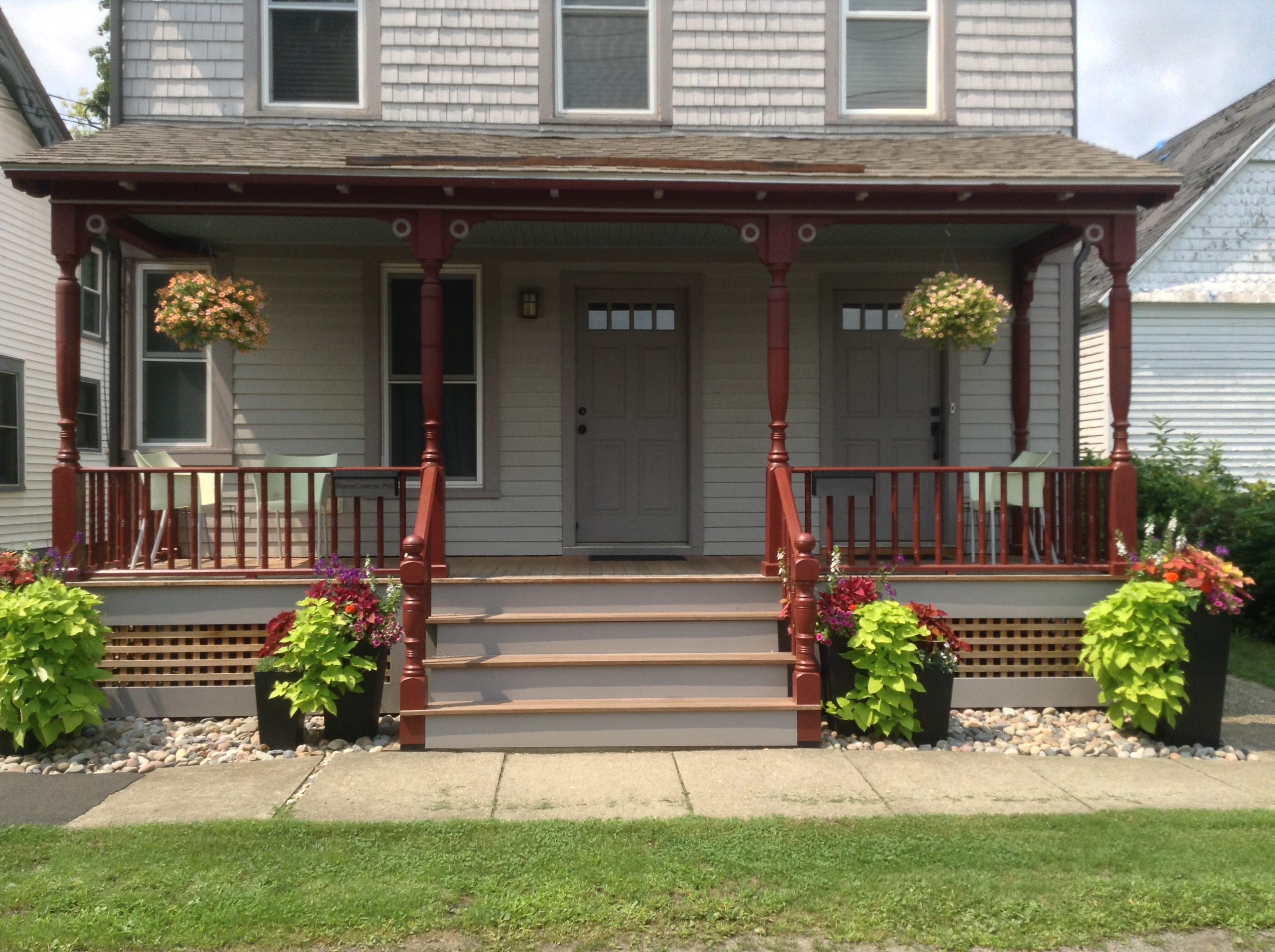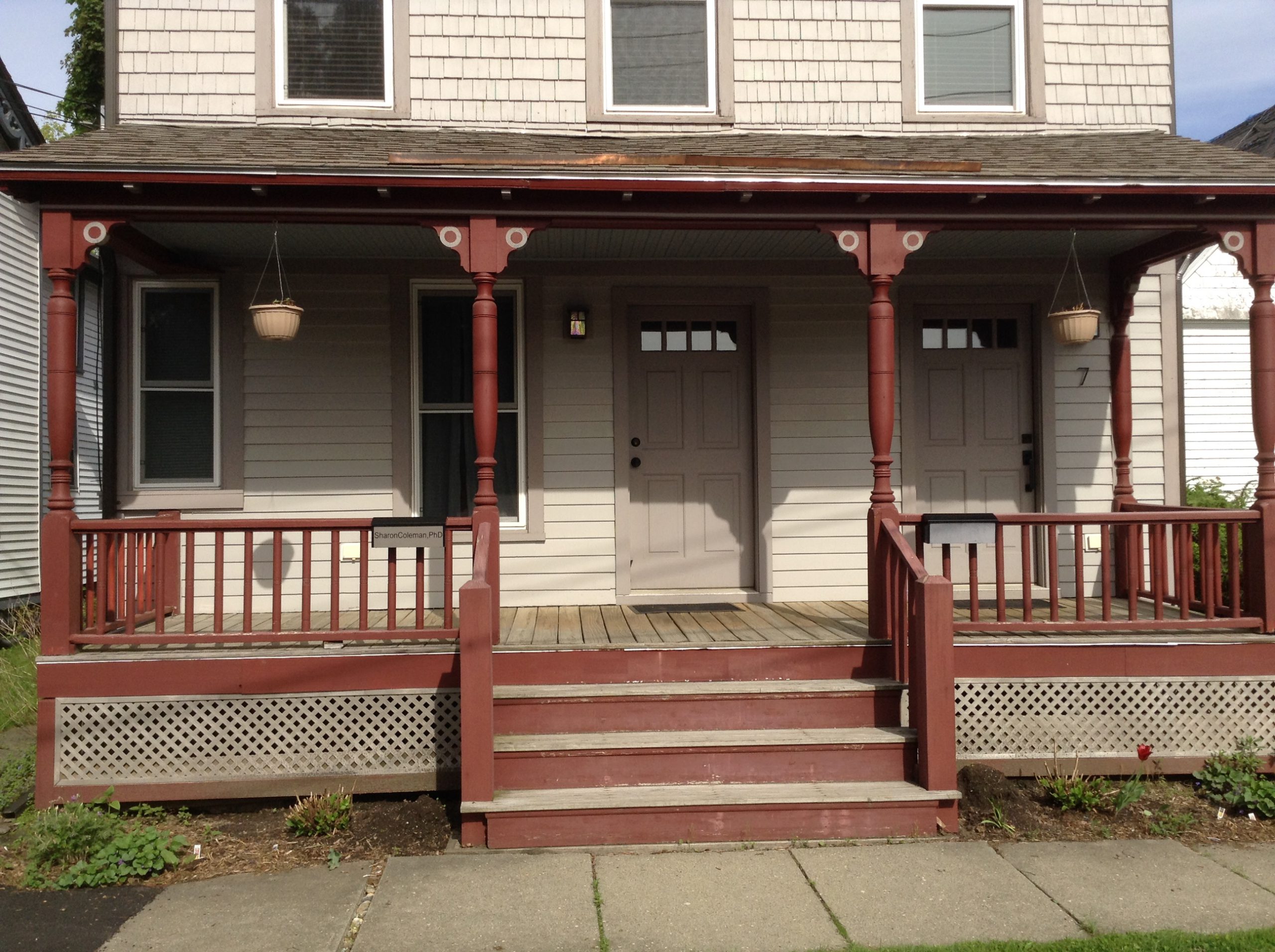 ---
All new. They worked great and match perfectly. I could have left some of the old ones but decided not worth it. I left the top and bottom rails so they were drop in.
"Original spindles rotted out beyond repair. Home Owners Association did not have a supplier for new spindles but desired a spindle that conformed with other residents. Mr. Spindle provided an affordable drop in replacement in a timely manner."
Doug
Doug
Columbia, MD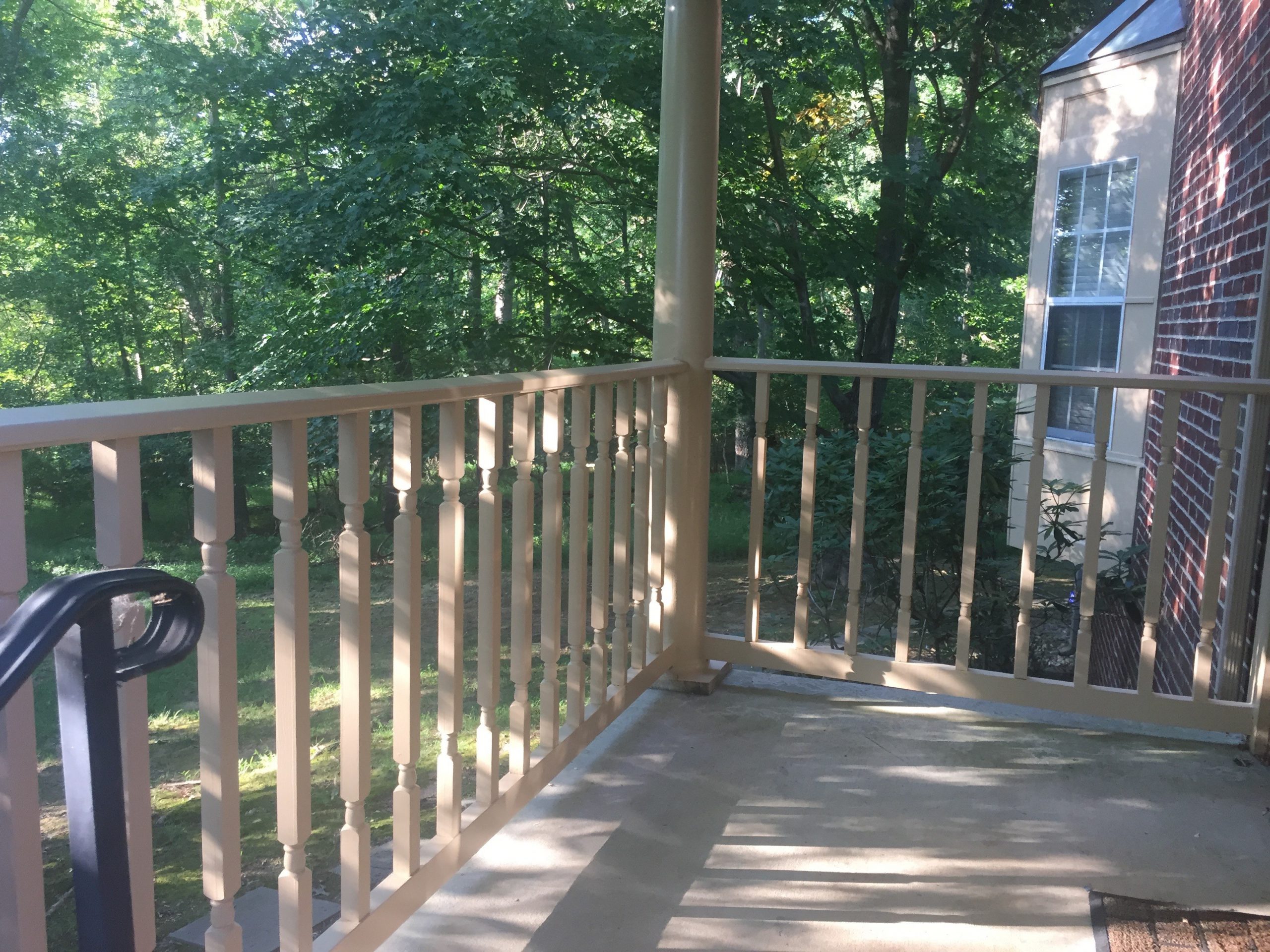 ---
In late 2014 I was working on a television show and needed to replicate, exactly, a railing at an old Craftsman home for the set we were building on a sound stage. We searched the internet and could find nothing even remotely resembling the spindles we needed. Our only option was to have them manufactured. As we searched for a manufacturer, I stumbled upon the Mr. Spindle website and read a testimonial that happened to be written by a good friend and fellow construction coordinator in the Atlanta area, John Weeks. I immediately reached out to Mr. Spindle by phone and emailed them a CAD file of the profile the same day. Five days later our order of 95 custom spindles shipped. In mid 2015, we placed a second order with Mr. Spindle for over 200 custom spindles for a feature length film. Once again, it was a positive experience. The product quality, customer service, speed of manufacture, cost and shipping are exemplary.
Thanks Mr. Spindle!
John Fore
Construction Coordinator for film and television.
John Fore
---
Spindles look great, Kary – and thanks for the amazingly fast turn-around!! The spindles to the left of the corner of the porch were reproduced by you, those to the right are originals.
A real pleasure doing business with you,
Joe
Joe P.
Wilmington, NC
---
I have been in the custom home business for 30 years and its been a great experience working with all the folks at Mr. Spindle. Their attention to detail, quality of products and follow through is second to none."
Follow the link to view more pictures of this project with product from Mr. Spindle:
http://public.fotki.com/JohnRino/lake-geneva-rails–/img-4572.html#media
Mike Doomis
Doomis Custom Builders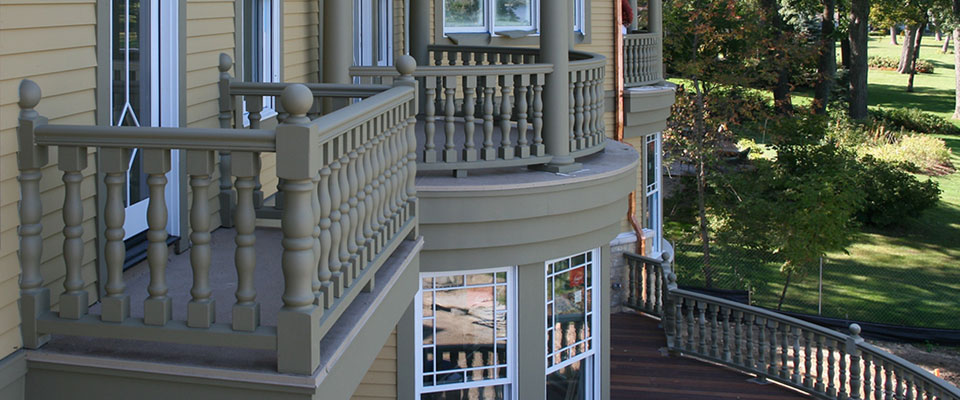 ---
Every thing was great. I had several conversations with one of your staff and they were extremely helpful and knowledgeable. We replicated an original fence as we live in a designated historic district and had to recreate the pre existing 100 year old fence. Again thank you for supplying such a great product.
---
Thanks again for everything. The porch has character and the quality is unmatched in the neighborhood.
---
Kary,
Received the porch post Looks identical to the ones standing. Thanks for your work! Mark R.
---
Bob,
The four 6X6 Deco Posts arrived this morning. I pulled one out of the box, and it looked great!
Please hold that design.
Bill and Martha – Winchester, VA

---
First thank you…
for all the great products you sold us! Everything was/is as good as it gets! My friend wants a price on 4 handrails (designer) just like you sold us. (2) tops and (2) bottoms.
---
Kary,
Posts arrived and are so perfect! I'm super picky and you all did a terrific job! I'll take a picture when they are installed and forward to you.
Thanks! Terri
---
Hello,
My name is John Weeks and I'm the Construction Coordinator on ABC Television's "Resurrection".
During our recent construction of the front porch of a new stage set, we ran into a bit of trouble matching the spindles of a house that we had previously shot on a location.
We HAD to find the spindles fast.
I called my usual suppliers to no avail. They were either going to take too long or be too expensive.
In desperation I Googled, found, and called Mr. Spindle.
I sent them a drawing, they had a very close match and we were off to the races.
Here's the cool part: They turned almost a hundred of them the next day before we even had time to set up an account.
Three days later (again, before the account was even set up) the product arrived on a pallet.
I cannot say enough good things about this company. The quality of the work, the trust they extended me, and the speed with which they shipped them to me was outstanding.
The price more than offset our desire to order within the state of Georgia, which we have to do to utilize a state tax incentive on purchases.
I have told many other buyers around here about Mr. Spindle and will continue to do so.
Please take this as a ringing endorsement of this fine company. I very rarely get the chance to say that, believe me.
---
Kary,
The porch post look great. Thank you for your time getting them just right.
Come spring I'll get back in touch as I have a whole bunch of spindles to do.
Best Regards,
Matt
---
Hello Mr. Spindle Team,
The post arrived in record time and we have been busy as bees, getting them ready to go up! I just wanted to say that I think they are beautiful! We were really shocked to get them so fast and I want to thank you again for our wonderful cedar post. Hope you have a great rest of the year, and throughout the holidays coming! Blessings on you and yours.
---
Hi Kary,
We received the finials. They are perfect.
Thank you.
---
Hi Kary
Thought I'd show you how my post caps and finials turned out. Totally awesome!! We will be putting in a picket fence in the future. I'm mentioning this because I'd like to order 20 mire finials and caps when it's time.
---
Hi Kary,
Thank you for your help again, there are many "Mr. Spindle" balusters around Elgin on porches we have built and you guys have always done first-class work!
http://www.facebook.com/allaroundhomeimprovements
www.allaroundhomeimprovements.net

---
Thank you so much. You your attention to detail is unmatched. With little prep, I was able to paint and install the ball top post caps!
---
Well the spindles were delivered this week and they are just perfect! Not sure how you got such a perfect match but they are exactly what I was hoping for.
Thank you!
---
I am a carpenter aficionado and for this project (a coffee table) it took me a while to find the right legs. That was my fault, I mean my fault because I didn't look in the right place. Now, after finding Mr. Spindle, it is the first and only place I look. Forget about the gorgeous online catalog they have. What really got me is the personalized attention, guidance and professionalism from my first inquiry to delivery which made the process a breeze. Thanks guys!
---
I started searching online and came across Mr. Spindle . And here is where we get excited. Not only are the folks at Mr. Spindle pleasant to deal with and knowledgeable about their products, but also they are up to the task of reproducing my baluster at a VERY decent price.
Read my blog @ http://fairytoon.blogspot.com/2012/04/near-perfect-match.html
---
Quality product and excellent finish provided in a timely fashion, superb communication through out the process! A+
David Shapiro
www.dishapiro.com
---
I have a house built in 1907, and I wanted something special for the front stairs and front porch. I sent Mr. Spindle photos of the balusters on my sleeping porch and they not only matched them, but did so at a considerably better price than I could buy non custom locally here on Long Island. I also wanted a special newel post and extra large hand rails, all of which were expertly done and delivered in a very reasonable time. If you are looking for a great product, at a fair price, and something you will be proud to have in or part of your home, this is the place to go!
W. Russell Corker, Esq.
Law Office of W. Russell Corker, PC
Huntington, NY
---
Just want to say thanks for "embracing " the opportunity to do an odd size baluster for us. The customer was so thrilled to get what they specified and I now have a great new resource for turnings!
Ann Miller
Greenfield Millworks
---
Kary, they turned out really great. I have already recommended you guys to a couple friends! Thanks for all the help. Top notch, professional and very reasonably priced job.
---